HYSTER TRACKER MOBILE APP

Instant insight in the industry's first mobile app. Fleet management, operator efficiency and critical events are now at the power of your fingertips.
Learn More
The Hyster Tracker mobile app offers a new level of data driven productivity now at the power of your fingertips. A site specific tool, instant insight can be gained regarding your truck fleet including impact alerts, checklist notifications, and a host of other crucial features making telemetry move at the speed of your business.
Take the guess work out of the equation with a mobile solution that turns data and information into actionable insight.
< Back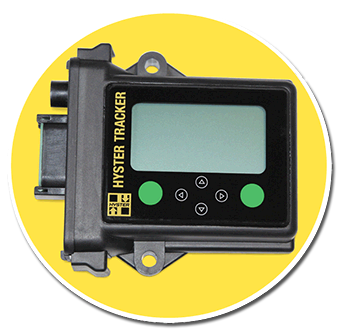 Manage Cost.
Optimize Productivity.
Protect Your Assets.
HYSTER
BATTERY TRACKER

Take CHARGE of your batteries
Learn More
Hyster Battery Tracker is a fleet management solution that provides valuable insights to better care for your batteries and maximizes their performance and life. Utilizing existing wireless networks, Hyster Battery Tracker monitors usage, alerts users of potential battery issues, and transforms your facility's vehicles into an intelligent fleet operation.
With Hyster Battery Tracker, you can now take charge of your batteries.
< Back

HYSTER
TRACKER
WIRELESS
ASSET
MANAGEMENT
Tough Trucks. Strong Solutions.
Features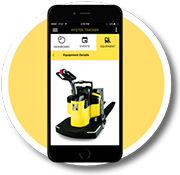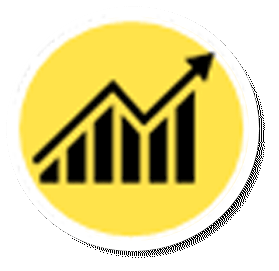 Utilization Proficiency
Optimize work flow and help boost productivity by analyzing the efficiencies of your operators and equipment. View and manage key performance indicator data per truck, fleet and location. Calculations are hour meter based over specified intervals such as shift or day. Comparisons can be easily generated and viewed, providing valuable insight into localized performance levels.

Equipment Diagnostics
Monitor engine, transmission, hydraulic and electronic functions to help provide maximum uptime. CAN-based fault code tracking can be assessed and utilized for either initiating a call for immediate attention or stored for the next service (with the option of sending an alert to the customer and/or dealer).

Safety Tools & Email Alerts
Use features like the impact commissioning tool to customize critical impact levels for specific trucks, classes of equipment or for your entire fleet. No need to guess when the data provides the answer. Proactive monitoring systems will send notifications in real time to address events in an effective manner with instant follow up.

GPS Location*
Gain full visibility into the location of your fleet and operators, activity at your site, and where truck impacts are occurring at your facility. GPS capability interfaces with Google Maps for up to date satellite images of your facility's location. *GPS only works with cellular communication connectivity.

Impact Detection
Help improve site safety measures and aid in reducing avoidable damage through accurate impact monitoring and real time alerts. Receive email alerts and portal notifications anytime an impact exceeds the critical level that is customized to your site location. These comprehensive alerts include date/time, impact severity, impact direction and speed prior to impact.

Live Utilization
Know the status of your fleet in real time. Whether a truck is being utilized, available for use, charging, or under maintenance, you will have the insight to help right size your fleet. Track and monitor usage at levels that keep pace with the speed of your business and operations.

Operator Access
Key card access will ensure only licensed and authorized operators are able to start and use equipment. This ties monitoring of your equipment at level 1 to the accountability of your operator. This creates another level of safety at the site as well as visibility to the operators performance. The operator credentials are entered via the web portal and include details of the operator, badge ID number and training expiration date.

Impact Lockout
In critical impact events, shut down your asset to ensure the equipment is inspected before returning to operation. The equipment can only be restarted by an administrator or technician after the shutdown event has occurred. Certain criteria must be met before a shutdown sequence occurs to give the operator the ability to find a safer location.

Inactivity Shutdown
Conserve energy on your fleet commanding a shutdown when no operator is present for a specified amount of time. This option detects truck inactivity and operator presence to ensure power usage efficiency. No need to worry about idle time when Hyster Tracker has eyes on your equipment and your operators.

Pre-Shift Checklist
The truck will not activate until the operator has completed the standard regulatory pre-shift checklist. Support your regulatory compliance initiatives when you eliminate pencil whipping associated with paper checklists. These checklists can be programmed into the Hyster Tracker unit, with full visibility to the portal. Your operators will be automatically disciplined to run through all required checks prior to startup and truck operation.

Wireless Visibility
The Hyster Tracker module is the first piece of equipment that provides visual insights to the operator. Know whether operator access is granted or denied, see the utilization metrics of the truck, observe an audible countdown when a shutdown event has occurred, and know the speed of your equipment. Whatever the situation, your operator will have visual ques to assist them through the workday.
Convenient cloud-based data with 24/7
access that provides actionable insights.
EXPERIENCE
HYSTER TRACKER

Take your fleet operation to the next level with wireless asset management from Hyster. The Hyster Tracker solution can drive fleet efficiency, improve operator performance, reduce your carbon footprint and lower your overall material handling cost.
Hyster Tracker drives fleet efficiency, improves operator performance, and lowers your overall material handling costs.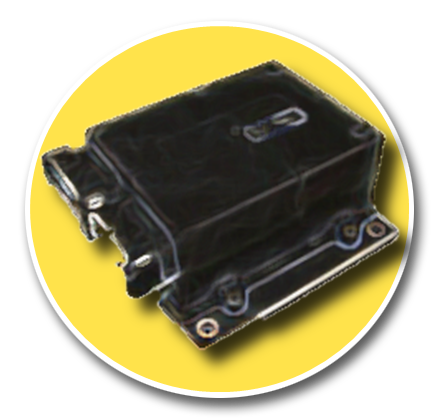 BIG TRUCKS.
SIZEABLE SOLUTIONS.
Hyster Tracker is now a standard feature on big trucks.
Learn More
The Hyster Tracker telemetry solution is a standard feature with all Hyster Big Trucks that benefit our customers to manage costs, optimize productivity and protect their assets. By activating this feature, Big Truck customers will gain access to insights that will better enable them to manage their fleet. Data will be proactively provided monthly to the customer via the Big Truck Report.
< Back
Contact Us
Interested in learning more about the Hyster Tracker wireless management system? Please complete the fields below and a telemetry expert will contact you regarding your request.